The identity assurance service will allow users to sign in to government services and prove their identity quickly, safely and privately.  Today an important part of the service, the 'hub', was completed and is ready to go into beta.
What the hub does
The hub will manage communications between users, identity providers and government service providers. It will allow users to select and register with an identity provider, and then use their assured identity to access digital services.
Making connections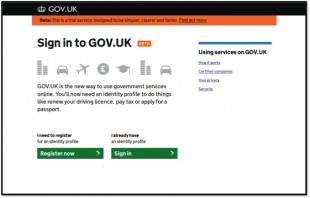 Initially we will be connecting the first of our identity providers and testing that users can prove their identity to a mockup of a government service. Once we've done that we will connect our first 'exemplar' government services and run further small scale tests before rolling out the full service.
Throughout this year we've been developing, testing and improving the identity assurance service with users, identity providers and central government exemplar services. And we'll continue testing and improving for the life of the service. We have also been working on alpha projects with local authorities and other commercial organisations to learn more about certain aspects of the service and explore possibilities for future uses of identity assurance.
Gates and certificates
Our first identity providers are currently going through a series of tests (or 'gates') to check that they can meet their contractual obligations. These gates are checkpoints in the development of the identity providers' service which will need to be passed in order for them to participate. The identity providers will also need to be international standards (ISO 27000) compliant and certified by an independent, certification organisation (tScheme) as meeting the identity proofing and credential management requirements set out in our Good Practice Guides.
If the providers fail to pass the gates or not achieve certification, they will not be able to offer a fully live service. This means that users can be assured that the identity providers they are offered have been through a very rigorous process of quality and security control.  Also, that government services can be assured of the standard of identity proved.
The end of the beginning
Today is an important day in the development of the identity assurance service. The foundations are complete and we can push on with building the live service.  There have been many challenges along the way, not least identifying and consulting on appropriate Privacy Principles and adhering to the strict service standards.  We will continue to work extremely hard to create the best possible service and experience for users.
If you'd like to know more or have any questions, please respond to this post.