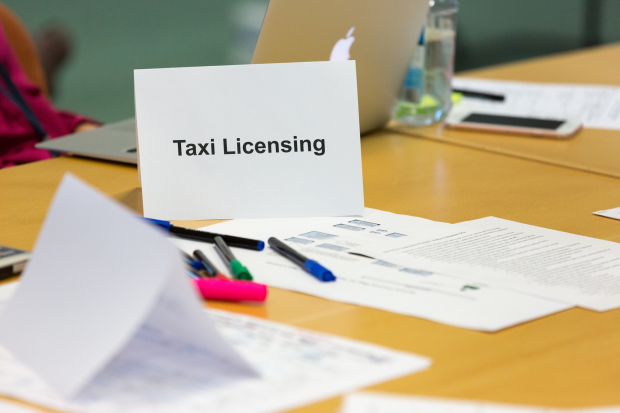 This post provides an update on our our discovery work with local authorities.
Two months into our work on #VerifyLocal, we have:
interacted with 80 local authorities
received transaction costs and volume data in support of pilot projects from more than 60 of them
run 2 discovery events with the DVLA, which involved 41 councils and 71 council staff
We are nearing the end of our initial discovery phase and clarifying our strategy for the first pilot projects we'll run to test GOV.UK Verify with a number of local authorities.
The first of these outcomes is our analyses of 3 local services. This aims to establish what these services need in order to become digital from end-to-end, why this would be beneficial to users and how GOV.UK Verify could support the transformation of the services.
What services did we look at?
The events on 15 July in London and 27 July in Bristol looked at 3 local service areas: taxi licensing, concessionary travel and residential parking permitting.
Attendees split into groups of between 6 and 9 people representing 3 to 6 councils, each group focusing on one service area for the full day. So, over both events, we had 2 groups working on concessionary travel, 4 groups examining taxi licensing, and 4 groups analysing parking permitting services.
Each group's mission was to:
examine how each council currently offers the service, outlining where there are unnecessary costs, delays and inconvenience (using this template)
leave us with enough data to estimate an average cost per first use of the service, upon which we can build a first draft and indicative business case for all local authorities to digitise the service (potentially using GOV.UK Verify and new DVLA services)
work as a group to agree a common, end-to-end digital future process for their service, which could inform our business case and our pilot project plan
The sessions threw up some challenges, particularly when it came to working out the average cost of delivering a service from end-to-end. Services are delivered by multiple people and sometimes multiple departments in each local authority. In some cases, parts of the service are entirely outsourced, so it was difficult for those authorities to estimate the total cost (both in terms of time and money) for those parts of the service. In fact, no authority – even those that came well-prepared for the session – was able to provide a definitive cost for every step of their service.
Therefore, as a starting point, we have used the data we gathered from participating councils, in addition to data already published, to get a sense of the scope for savings if councils digitise their complete services – including identity assurance – as outlined in the future processes mapped out by our event participants.
Notable omissions
Our first phase of discovery aimed to uncover the current costs and problems with these 3 services, and to understand what an improved future service might look like. So we used the data gathered by our local authority collaborators before and during our events to identify savings and improvements that could be enabled by using GOV.UK Verify (and central government eligibility data, in the case of disabled people's travel passes).
Our findings reflect the benefits of transforming these services, but they do not yet reflect the cost of making the changes and maintaining GOV.UK Verify. In the next phase of discovery work, when we start planning a pilot project with a group of local authorities, we aim to clarify integration costs and refine this business case accordingly.
Likewise, we have not accounted for the savings that would be made by the reduction in fraud that improved ID and eligibility checking would enable. Nor have we accounted for the wider benefits that councils and central government could realise using the improved digital infrastructure that these transformation projects could allow. For example, participating councils could extend GOV.UK Verify to other services. This would potentially enhance identity verification savings to the council, and they could deliver related services at once - for example, issuing anyone entitled to a disabled travel pass with a blue badge, or vice versa.
Discovery findings - first iteration
We've created 2 summary documents for each of the 3 services analysed.
The first includes an overview of how participating councils currently deliver the service, a summary of some of the benefits discussed, and a visualisation of the common future service process agreed by the councils that participated in the event.
The second is a narrative summary that explains how we've calculated the benefits of transformation, what's assumed, and what's missing.
Concessionary travel is the first service analysis we've completed on, and you can read its group work overview and narrative summary (discovery business case) here.
UPDATE 25 August 2016: 
We now have the 2 summary documents for the other two services analysed: taxi licensing and parking permits.
The taxi licensing group overview can be found here and the narrative summary is here.
The parking permits group overview can be found here and the narrative summary is here.
These are living documents and we will iterate and refine them for each service for which we run a pilot project.
Next steps
We will update this blog post with the summary documents for the remaining 2 services (parking permitting and taxi licensing) when they're finalised.
When you read the findings, if you believe you have information that could help fill in these blanks, or make the case stronger or clearer, then we'd love to hear from you by email.
Once our analysis is complete, we will announce a collaborative pilot project in one of these service areas, along with a comprehensive summary of the commitment required for participants.
As always, we will continue to publish full details of all our plans and products on our project page on the Local Digital Coalition website.