Earlier this year we introduced some objectives explaining what 'live' will mean for us, and what we are aiming to achieve by the time we move from beta to live in April 2016.
This post gives an overview of the progress we've made and what remains to be done.
Readiness for services to adopt GOV.UK Verify
We post regular updates on the services planning to adopt GOV.UK Verify - our most recent post was in July.
We're working with 51 services across government, of which 13 are now connected to GOV.UK Verify (7 as public beta services). We're on track to meet the demands of the services in the pipeline - we expect about 30 government services to be using GOV.UK Verify by April 2016 and the remaining 20 or so to join in 2016/17.
90% demographic coverage
We estimate that GOV.UK Verify can cover approximately 80% of the UK adult population now (up from about 65% at the start of our public beta), and we have plans to increase this to 90% by April 2016.
Since the start of our public beta we've seen the introduction of new methods that allow people to prove their identity more straightforwardly and with fewer pieces of evidence. For example, certified companies have implemented new ways to validate official documents so that users with any passport and any EU identity document can use those documents as identity evidence, and new ways to validate payment cards without reference to a user's credit reference data.
The existing and new certified companies will be adding more data and methods over the coming months, further increasing the demographic coverage of the service towards our 90% target by April 2016.
90% success rate
The success rate is a measure of the proportion of those who try to verify using GOV.UK Verify who succeed (of those who try and either fail or succeed). At the start of our public beta, the success rate was around 40%. It's now increased to 69% and we're aiming to increase it to 90% by April 2016.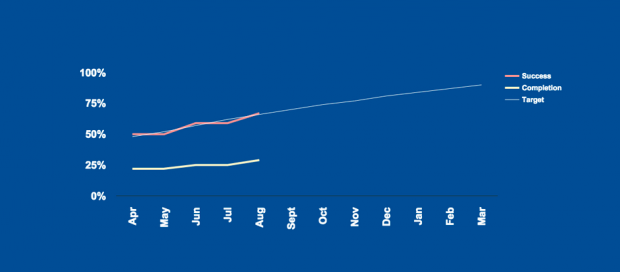 There's been a sustained increase in both the success and completion rates for GOV.UK Verify. We expect this improvement to continue as certified companies continue to improve and expand their services and as new identity providers come on board (see below). On the basis of our progress so far, we're on track to achieve our target success rate of 90% by April 2016.
The success rate will continue to increase as a result of 3 main factors:
Increasing the range of high quality certified companies -

we signed a

new framework agreement

in March 2015 with 9 certified companies. The four existing providers (Digidentity, Experian, Post Office and Verizon) will be joined by 5 more (Barclays, Paypal, Morpho, Royal Mail and GB Group). The suppliers will offer a wider range of high quality choices for users depending on their preferences and the types of identity evidence they are able to provide.

An increased range of methods and data sources

meaning that more people are likely to have the evidence needed for GOV.UK Verify to verify them. For example, at the start of our public beta, most users would need both a driving licence and a UK passport, and to be able to answer questions based on their credit history. Now, because of new methods introduced by certified companies, it's possible to verify with only one of those two documents, or a range of other official documents from other countries, and without having to answer knowledge-based questions.

Making the service as straightforward as possible for people

. We're carrying out ongoing user research and analysing feedback from users to help us identify and implement improvements that will help increase the success rate.
You can view the latest statistics on the GOV.UK Verify service dashboard on the Performance Platform.
Everyone can use GOV.UK Verify to access services
Work continues to ensure that people who are not able to verify their identity digitally are still able to use digital services. We're analysing the results of our Basic accounts trial and will post separately about that soon.
A range of high quality certified companies for people to choose from
We're working with the 9 certified companies - 4 existing and 5 new - to prepare them to onboard their services under Framework 2. We're about a third of the way through the process, and we're working to complete all the onboarding gates by January 2016 - we're making good progress but there is a lot of work for us and the certified companies to do between now and then.
The product and service are scaled, resistant and operationally ready for live
We're currently working towards a November milestone for technical delivery, which we're on track to achieve. We're prioritising work we need to complete to meet our accreditation requirements and to make sure the service is scaled and resilient for the volumes and demands we are expecting at that stage. We're also aiming to complete work that will help us achieve our April 'live' milestone, and working on further defining the scope for the work that's required beyond November for GOV.UK Verify to be ready for live by April 2016.
If there's anything in particular you'd like us to include in our next update then let us know in the comments below.