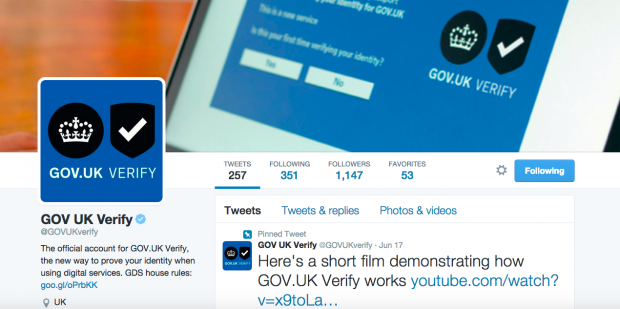 GOV.UK Verify is a new type of service, being delivered in a new way for the first time anywhere in the world, so our social media accounts present some interesting challenges. I'm responsible for GOV.UK Verify's digital communications channels, and this post is about how we're developing our approach to digital engagement to meet a range of needs.
What GOV.UK Verify's digital channels are for
Because of the way GOV.UK Verify works, we're aiming to meet quite a wide range of needs through our digital channels.
Like any digital service, we need to respond to users' queries about GOV.UK Verify through whichever channel they've chosen whether it's our support desk, our Twitter account or our blog.
We've designed and built GOV.UK Verify according to identity assurance principles developed for us by our privacy and consumer advisory group; we need to make sure we protect users' privacy and comply with these principles in all our contact with users, including contact through our social channels.
As well as responding to operational questions from users, we also need to be able to take part in conversations about policy, commercial, delivery and technology issues relating to the service, and respond to wider questions about how we've designed and built it and how it works.
GOV.UK Verify operates a federated model for identity assurance. We work with a number of certified companies who verify people's identity on behalf of GOV.UK Verify. So users may come to us looking for information specific to their experience with their chosen certified company.
GOV.UK Verify is not a service in its own right. Rather, it provides a way into services on GOV.UK. So users who contact us through our social media channels may be seeking a response to comments relating to those services
How we're using digital channels to meet a range of needs
We're interested in connecting with people who care about what we're doing, sharing the lessons from the work that we do, and helping our users as effectively as we can. GOV.UK Verify has two social media channels that allow us to do this: the identity assurance blog and the @GOVUKVerify account on Twitter.
As GOV.UK Verify is currently in public beta, being constantly expanded and improved, these channels provide a space for us to have valuable conversations that can shape the development of GOV.UK Verify. Whether we're answering specific questions about how GOV.UK Verify works, or discussing the broader issues around identity assurance, we want our blog and Twitter feed to be credible sources of information, showing empathy when our users share feedback, and competence when they want answers.
We look to the GDS Social Media Playbook for guidance on best practice and follow the GDS house rules (which cover operating hours and response times) but we've also come up with a few rules of our own. Here's some of the things we're doing to ensure that users get the most out of engaging with GOV.UK Verify on social media:
Our contact with users, regardless of the channel, should be directed at resolving any issues they are having using GOV.UK Verify quickly, efficiently and in full compliance with the identity assurance principles.
We will not ask for or encourage users to share any personal data through social media channels, including which service they are trying to access or which provider they are trying to use. Where there's a need to provide individual support, we will move to private channels (eg direct message or email).
We will make sure that users receive consistent answers and responses regardless of the channel they use to contact us.
We will not publish individual support requests that appear in the form of blog comments and/or tweets. Where a user is having a specific problem, we will direct them to the GOV.UK Verify service desk for resolution.
We will not respond on behalf of certified companies, or comment on them individually, but suggest that the user should contact the certified company support desk directly in the first instance.
We will not respond to feedback or questions on behalf of government services that use GOV.UK Verify. Instead, we will suggest that the user should contact the relevant support channel in line with any agreements we may have with departments, or generically if we don't know which service the user is trying to use.
We will respond to user support requests through social channels according to our overall response time targets (4 hours, during working hours). We will not reply outside office hours unless there is an overriding business need for us to do so.
We will 'favourite' news coverage and other commentary about GOV.UK Verify, and about identity assurance in general, as this is a useful piece of curation for our community. Similarly, we will follow accounts that are relevant to identity assurance / technical issues that we think our community might find useful.
We will not retweet comments about GOV.UK Verify - positive or negative - unless they add value to the community
What do you think?
We'd be very interested to hear from users of our digital channels, and anyone else who's dealing with similar challenges in managing social channels for transactional services, about how you think we can improve and develop our approach.
Get the latest news by subscribing to this blog or following us on Twitter.