This blog post provides an update on how GOV.UK Verify became available for users to file their Self Assessment in 2016.
If you need support filing your Self Assessment for 2017, please contact HMRC if you are using Government Gateway. If you are using GOV.UK Verify, please get in touch with GOV.UK Verify's user support team.
----------
Each year around 2.8 million people file their own self assessment tax return online with HMRC. The deadline for this passed on Sunday 31st January.
GOV.UK Verify is in public beta (it will go from beta to live in April this year), so it's not yet scaled and ready to act as the main way for people to access their self assessment tax return. Most people still use Government Gateway to sign in and access the service.
However, following a successful trial in 2015, this year HMRC has been providing GOV.UK Verify as an alternative for users who have lost both their username and password. Without GOV.UK Verify being in place, those users would have to wait for replacement credentials to be sent to them in the post which can take up to 10 days (whereas using GOV.UK Verify for the first time takes about 10 minutes).
GOV.UK Verify was also available for anyone who wanted to use it - for example, if someone had used GOV.UK Verify to access another service during the year, they might choose to use it for self assessment as well. Over the course of the last year GOV.UK Verify verified more than 400,000 identities, and so naturally, some of these will have chosen to reuse their GOV.UK Verify accounts when filing their self assessment tax return.
Comparing 2015 and 2016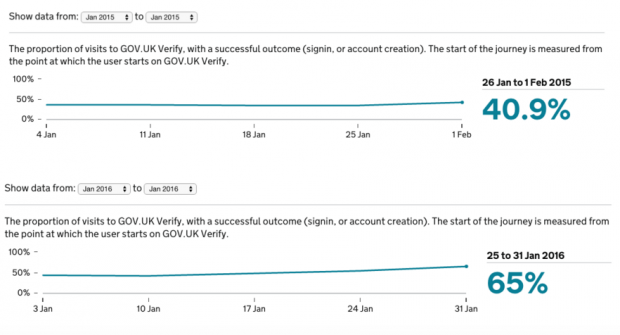 In 2015 more than 11,000 people used GOV.UK Verify to file their self assessment tax returns. At the time users were offered a choice between two certified companies, and the option to use GOV.UK Verify was less prominently advertised on the GOV.UK start page. The completion rate, which is the percentage of visits to GOV.UK Verify which conclude in a successful outcome, was 40.9%. Some users take more than one visit to verify their identity. The verification success rate, which measures the proportion of visits where users arrive back to GOV.UK Verify from certified companies having verified their identity, vs. visits that arrive back to GOV.UK Verify having failed, was 56% in the last week of January 2015.
Since GOV.UK Verify went into public beta in October 2014, we have been working to improve the service to make it more straightforward for people to use. Certified companies have been adding new methods to verify identities, and improving their user journeys. The GOV.UK Verify hub has also been improved through research and A/B testing. We can see the impact of this from last year to this year.
This year, users could choose from 4 certified companies, each of which extended their customer support services over the final "peak" weekend to help users who were filing their taxes at the last minute.
During January 2016, 53,100 new users verified their identity with GOV.UK Verify in order to file their self assessment, along with many who had verified throughout the previous year.
In the final week of January 2016, the completion rate for GOV.UK Verify grew to 65%, and the verification success rate grew to 77%.
Overall in January this year, people used GOV.UK Verify 196,504 times to access the self assessment service. Users typically sign in at least twice as they complete their self assessment.
Over 1 million authentications with GOV.UK Verify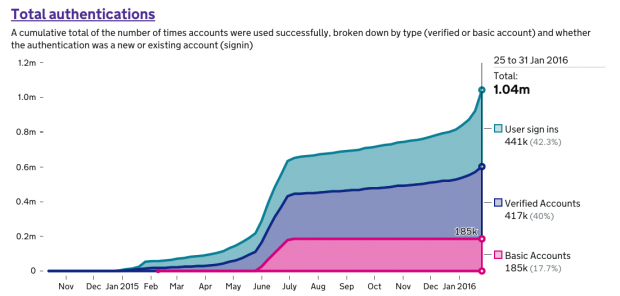 The growth in traffic this January took usage of GOV.UK Verify over another significant milestone. As of Saturday 30th January, there were over 1 million authentications since the service became publicly available. This means that users have used their accounts to access an increasing range of central government services over 1 million times since October 2014.
Thank-you
As Service Manager, I would like to thank everyone who worked to prepare GOV.UK Verify for the self assessment filing deadline and those who provided support to our users, many of whom provided useful feedback. We'll be using this to continue to improve the service as we work to take GOV.UK Verify from beta to live.

Sign up for updates on GOV.UK Verify's progress