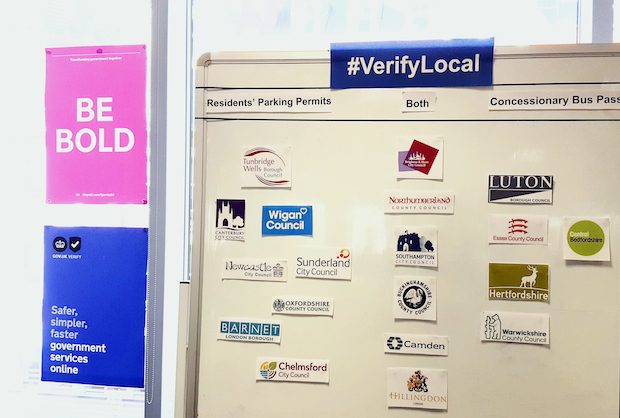 In our last #VerifyLocal blogpost we invited local authorities across the UK to take part in our first wave of collaboration pilots to integrate GOV.UK Verify into 2 services: issuing of concessionary travel passes and resident parking permits.
Applications have now closed and we are happy to say that we've had 19 different local authorities committing to work with us on the pilots.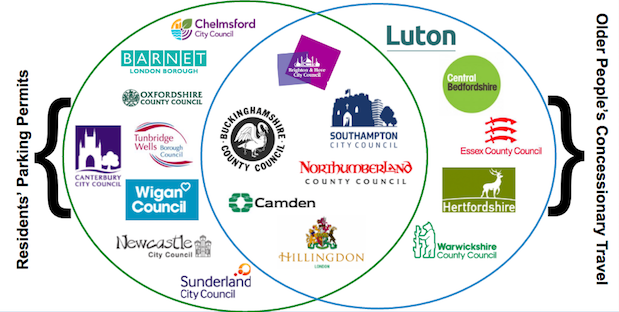 11 councils have signed up for the Older People's Concessionary Travel pilot, and 14 councils have signed up for the Residents' Parking Permits pilot. Below is the list of partnering councils for each service:
Older People's Concessionary Travel
Residents' Parking Permits

Brighton and Hove City Council

Buckinghamshire County Council

Central Bedfordshire Council

Essex County Council

Hertfordshire County Council

London Borough of Camden

Luton Council

London Borough of Hillingdon

Northumberland County Council

Southampton City Council

Warwickshire County Council

Brighton and Hove City Council

Buckinghamshire County Council

Canterbury City Council

Chelmsford City Council

London Borough of Barnet

London Borough of Camden

London Borough of Hillingdon

Newcastle City Council

Northumberland County Council

Oxfordshire County Council

Southampton City Council

Sunderland City Council

Tunbridge Wells Borough Council

Wigan Council
Many local authorities were keen to participate in both pilots and share resources and knowledge across both services and with other councils. The collaborative projects will be an opportunity for local authority experts from across the country and the GOV.UK Verify team to work together to build a transformed end-to-end digital service around secure online identity assurance.
The pilots aim to tackle the issues that users face when making a first time application for a residents' parking permit or an older person's concessionary bus pass. Our focus is on introducing an online option to access the service (where one doesn't currently exist) or improving the existing offering through business process re-engineering and service redesign. For residents in those areas it means they'll have 24/7 access to a government service without having to physically bring, scan or post any documents in person to prove who they are.
The next steps for our first pilots
We are preparing for the first discovery workshops for each service, taking place on Tuesday 18 October. Together with the teams of all local authority collaborators, we'll confirm the collaboration project plan and ways of working, agree on key discovery activities and products, and start mapping out the services.
In advance of the workshops, we plan to visit participating councils and analyse their processes to create a high-level service pattern and key personas. We will also gather in-depth data on service costs, user volumes and available channels for accessing the services. This will help us quantify and track benefits to councils, inform pilot success criteria, as well as feed into the next iterations of the service specific business cases.
In line with our pilot collaboration principles, we will be publishing all our updates and progress on the Local Digital Coalition project pages for each pilot.
Working with suppliers
We recognise that many local authorities work directly with suppliers to provide services. We are holding our first supplier engagement event with techUK today (Monday 3 October) to share our updates with suppliers and understand how industry can get involved.
We will publish an update on these activities in our next blogpost.
Planning discoveries for our second wave of pilots
We are delighted with the level of interest we've had on these first pilots. However, beyond the first wave of pilots, we're also kick-starting our discovery work on two further service areas.
We spoke to over 90 local authorities who told us that they would like to partner with us in redesigning their most complex, high value and high impact services, such as council tax and customer accounts. In the coming days we will be inviting all interested councils to attend discovery events on the service areas that have generated the most interest. These events will be:
A discovery workshop on reuse accounts (residents' online accounts that are used to access a number of local authority services). We aim to get a thorough overview of the types of services that are offered via reuse accounts across councils and examine if the secure access to them can be improved by using GOV.UK Verify. The event will be on 26 October in London.
A discovery event on housing benefit and council tax reduction in November.
We'll post further updates and information on these discovery events on the Local Digital Coalition project page.
Subscribe to the blog to keep up to date with our continuous work with local authorities and follow the conversation on Twitter through #VerifyLocal.