We've been developing GOV.UK Verify over more than 18 months of user research and iteration.
Since we launched the public beta of GOV.UK Verify, we've been gathering feedback from the first people to use it. We're using that feedback to continuously improve GOV.UK Verify and make it as straightforward as possible for people to use. Understanding what works and what doesn't work helps us to understand what we need to do to continue to make GOV.UK Verify better for everybody.
One of the first things we've found is that some people aren't able to answer the questions used to verify their identity without referring to their financial records. These questions are necessary to make sure that it's you being verified, and someone isn't pretending to be you.
To help make sure that people will be able to answer these questions, we've added a page to ask if they have access to this information, and to explain what they can do if they don't.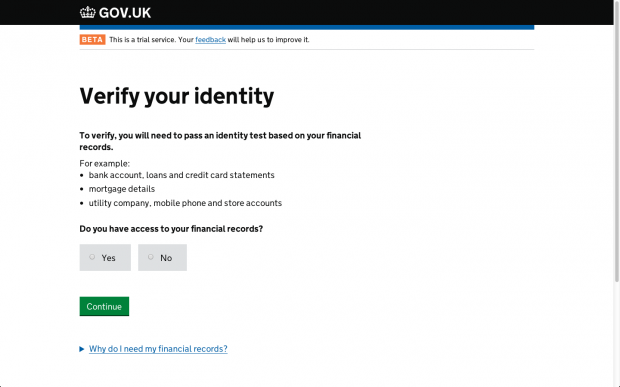 We've been testing this new page in our user research lab. It helps, but we know it isn't perfect just yet. Some people look at this page and don't read either the page heading or the first part of the page, and so don't understand why they may need to refer to their financial records. We're looking at ways of improving this and will be making updates in the coming weeks.
We're looking forward to getting more feedback. We'll continue to improve GOV.UK Verify based on what we learn.