I'm Hugh and I manage the GOV.UK Verify user support team. This post provides an insight into how we do user support.
GOV.UK Verify is a platform for identity and represents a new way for citizens to prove who they are when they use government services. GOV.UK Verify is the first of its kind in the world and our users are playing a vital role in its development. As such, we need to have a user support team in place that's equipped to collect and respond to the feedback received, and resolve issues promptly for users when they arise.
Who we are and what do we do
I joined GOV.UK Verify in October 2014, just as the service went into public beta, and was solely responsible for the user support function for several months. One of the benefits of conducting service design in phases - alpha, beta, live - is that it lets you start small and get feedback faster before rolling a service out to a wider audience.
With more services connecting to GOV.UK Verify and a steady increase in user numbers as a result, it soon became clear that recruiting a team to handle user support was a priority. We scaled the team up quickly and since May 2015, I've been joined by Vivienne, Hannah and Jacob. Together, on average, we respond to around 1000 contacts from users every month.
Our aim is to provide first class support for everyone attempting to verify their identity using GOV.UK Verify.
Want to get in touch?

You can contact the user support team when using GOV.UK Verify by clicking on the link at the top of the page where it says that the service is in a trial phase and your feedback will help us to improve.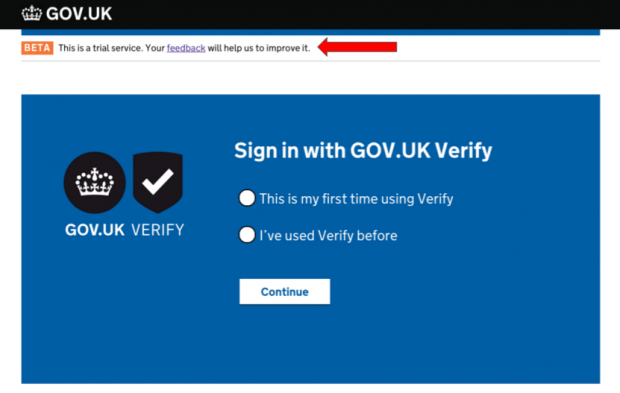 The purpose of the form is to provide advice and guidance on the service when you are having an issue, receive comments/suggestions on the service for improvements and to hear how the service has been of benefit to you.
The user support team are available Monday to Friday from 8.00am to 6.00pm and aim respond to any messages within a maximum of five working days. We are currently averaging a first response to users within 24 hours.
The services using GOV.UK Verify have their own help and support systems and details of those can be found via their page on GOV.UK.
The certified companies are currently providing support Monday to Friday from 8.00am to 8.00pm and on Saturdays from 8.00am to 5.00pm and their contact details are:
Experian
e-mail: identityservicehelp@experian.com
Telephone: 0344 481 8192
Digidentity
e-mail: helpdesk@digidentity.co.uk
Telephone: 0330 60 60 732
The Post Office
e-mail: myprofilehelpdesk@postoffice.co.uk
Telephone: 0330 60 60 733
Verizon
e-mail: gds-idmsupport@one.verizon.com
Contact form: https://securemylogin.co.uk/profile/contact
User feedback really does help
Your feedback counts and does make a difference to the ongoing design and development of GOV.UK Verify. One recent example of this was when the user support team received a number of messages relating to certain buttons not working on the start pages of GOV.UK Verify. This was quickly passed to the technical team and the issue was identified quickly, investigated fully and the matter resolved within 24 hours.
Have your say in this service, the user support team are your voice within GOV.UK Verify and we want to help.