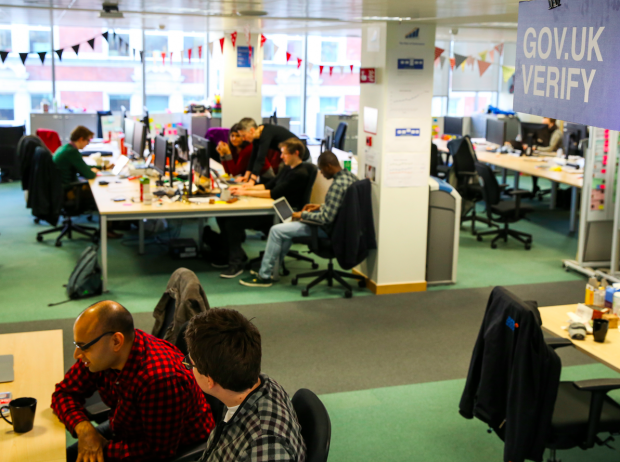 Put in place a sustainable multidisciplinary team that can design, build and operate the service, led by a suitably skilled and senior service manager with decision-making responsibility.
(Digital by Default Service Standard, point 3)
All digital services need a skilled, empowered service manager and a multi-disciplinary team to design, build and iterate the service.

GOV.UK Verify is cross-government service with many moving parts. Our team's functions include:
developing, building and operating the GOV.UK Verify hub and document checking service, including supporting users


maintaining pan-government accreditation for the service

publishing and iterating government standards for identity assurance (jointly with CESG)

managing commercial and operational relationships with a range of certified companies and suppliers, and bringing them onboard

working with industry to develop and grow the market for identity services in the UK (primarily through the Open Identity Exchange)

working with international colleagues to make sure GOV.UK Verify is interoperable in Europe and elsewhere

working with privacy and consumer groups to help make sure GOV.UK Verify protects users' privacy

working with departments to help them prepare to adopt GOV.UK Verify, and bringing services onboard

preparing to make GOV.UK Verify available in the wider public and private sectors
Because of this wide range of responsibilities and functions, we need a larger team and a wider range of disciplines than would be needed for other more straightforward services. Overall we have approval and funding for more than 100 people as we move from Beta to Live. Currently we have around 70 people actually working on the programme.
We have a majority of civil servants in the team, but like many others building digital services in government there are also contractors in the team, all from a range of backgrounds. Over time we've increased the proportion of civil servants in the team and we're continuing to do so as we establish ourselves as a Live service.
Building and running GOV.UK Verify
Most of the team is directly involved in building and running the service:
Our technical delivery team develops and operates the GOV.UK Verify hub and document checking service, including the underlying technical infrastructure, and performs the technical work to bring new certified companies and relying parties onboard. The team includes a mix of developers and webops engineers, delivery managers, product managers, technical architects, a technical writer and security experts.
Our service operations team includes operations support experts, a head of operations, 4 security operations experts, and the user support team

.

Our research and design team includes an interaction designer, content designer, and 3 user researchers who work to develop and improve the service based on data and feedback.
Our team of 3 data and performance analysts works to inform the whole team about how the service is performing.
The wider programme team
As a new cross-government service, we also have to perform a range of other functions and tasks.
Our programme is responsible (jointly with CESG, the national technical authority) for setting the government's standards for identity assurance and providing expert advice on those standards. Our risk and assurance team includes security experts who have worked in the fields of identity and security over many years, long before GOV.UK Verify was built.
GOV.UK Verify is a cross-government service, and the number of services connected to GOV.UK Verify has grown from 2 in 2013, to 13 now (including those in private beta). There are 50 services currently in our pipeline planning to adopt GOV.UK Verify. In the coming year we expect tens more to join, with potentially hundreds joining in the future.
We have a team of 8 people whose job it is to help and support departments as they prepare to adopt GOV.UK Verify.  The policy and engagement team also includes our lawyer (on loan to us from the Government Legal Service), our privacy officer, who is responsible for helping make sure we protect users' privacy in everything we do, and our economist who amongst other things works to make sure we understand and improve GOV.UK Verify's demographic coverage and is working on our plans to make GOV.UK Verify available to services outside central government. The policy and engagement team also works to make sure that GOV.UK Verify stays aligned with European and International standards.
We also have an industry engagement team: 3 people who liaise with industry to stimulate a market of identity services, for example by running alpha projects with industry and other partners.
Without our certified companies, we wouldn't have a service. Our certified company onboarding team of 3 manages the contractual relationship between the government and the certified companies, and manages the process for companies to join GOV.UK Verify once they have signed a contract.
To support the whole programme, we have a business operations team (2 people) to take care of our people and resources, and a programme manager to make sure all our disparate activities are properly coordinated and governed.
Our digital communications lead makes sure we have accurate answers to all the questions people might ask, runs our social channels, plans our communications activities (working with our colleagues in the Cabinet Office press office), responds to all our FOI and Parliamentary Questions and manages this blog.
Co-location works for us
One of the things that makes our programme unusual is that we have everyone located in the same place. This brings a lot of benefits, and I would argue it's been essential to get us to this point. We are building a new service, in a new market, and in a new way, for the first time anywhere in the UK and in a way that's unlike any others that have been tried in other countries.
There is no separate policy team making decisions disconnected from the reality of delivery. If we need legal advice, expert advice on how the standards work, or to test an idea with users in the research lab, we have experts on hand to take care of it - people who are experts in their discipline and who understand GOV.UK Verify, its context and how it works. When we come across a new challenge or opportunity, we can quickly get all the right people together to work it out.
Leading a multidisciplinary team
In my role as service manager, I have decision making responsibility for the service, but do not lead all the teams mentioned above.
I am joined by the programme manager, head of operations and head of policy and engagement to form the senior management team for GOV.UK Verify. This is led by the programme director, Janet Hughes. We'll be posting more in the next few weeks about what we've learned so far from our experience of running the programme.

For the latest news on GOV.UK Verify and our journey to live, subscribe to the blog.