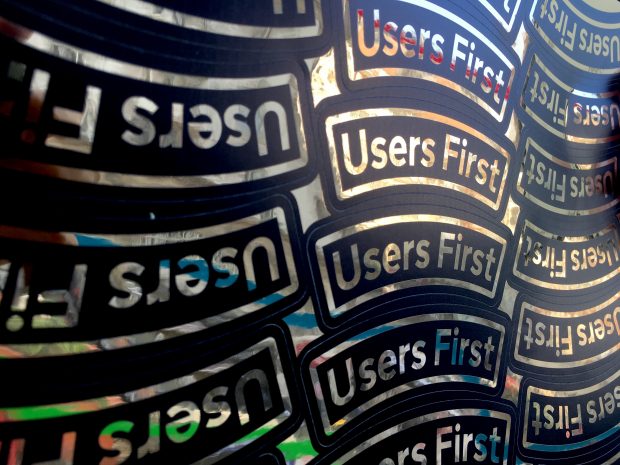 "Why doesn't GOV.UK Verify work for me?", "How can I be sure the verification process is secure?", "Why is this app I've downloaded not working?". These are some examples of typical questions our users have asked the GOV.UK Verify user support team.
This is the first in a series of posts from the user support team where we'll talk about the issues our users have experienced, how we respond to these queries, and how we measure user feedback and the impact of the support given.
This post will give you an insight into what happens as soon as any user clicks 'send message' in their GOV.UK Verify feedback form.
What we do and how we do it
A typical day for a user support specialist starts at 8:00am. The first thing we do is to carry out a quick assessment of how many feedback requests (also known as 'tickets') we've received overnight. We usually review and respond to tickets in date order. If an urgent issue has been identified, for example a technical outage, then this will be prioritised.
GOV.UK Verify's user journey has been designed to be as straightforward as possible and its always being iterated and improved. However, sometimes users do experience difficulties and one of the things we do is explain to them how to navigate their way around GOV.UK Verify. One of the most common reasons why users come to us is because they haven't arrived at their preferred destination - the service on GOV.UK they are trying to access.
Whatever reason a user comes to GOV.UK Verify user support, we always strive to offer timely and appropriate resolutions to their problems. We never send users away empty-handed.
Hugh Quigley (User Support Manager)
When users unknowingly takes a wrong turn on their journey or are unable to interpret a warning sign en route, they turn to the user support team for help. In addition to providing directions, the user support team helps users who have encountered a 'breakdown' in their journeys by offering assistance to get them to their destination (or government service).
Working out how best to assist our varied demographic of users, ranging from the tech-savvy to those less confident online, can sometimes be a complex process.
In fact, it's not always just our team that is needed to help answer user queries. We work closely with the connected services they're trying to use, and the certified company the user has chosen to verify their identity with.
The user support team typically interacts with users, the connected services, and certified companies through this feedback journey:
The user sends feedback to GOV.UK Verify user support
Their feedback is analysed
Input is sought from the certified company or connected service
A solution is offered to the user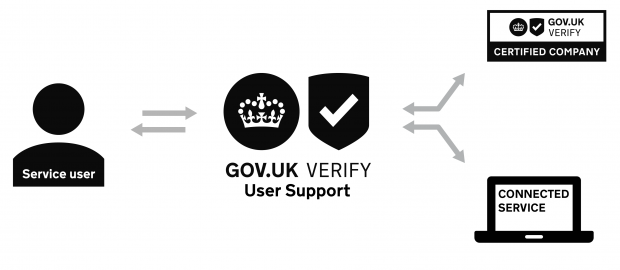 It's a joint effort to reach the best outcome. Throughout this process, we maintain our users' privacy and ensure that we adhere to the Identity Assurance Principles.
The user is always at the heart of what we do
To capture real opinions and experiences of our users, in August 2016 we introduced a feedback survey that is sent after an issue has been resolved. Hearing what you have to say is integral to our development, as it allows us to evaluate the effectiveness, efficiency and quality of our service. After all, the user is at the heart of GOV.UK Verify's ongoing improvement.
Here's a sample of some of the real user feedback quotes we've received:
Why do I need Verify when I have a government gateway id already?
Please note that I'm very deaf so I can't make use of telephone numbers. I need access via the internet
I'm not resident in the UK. I want to be able to register to get online access of my statement for future pension
This verify website is excellent. I sorted it all out in a few minutes and accessed my account straight away
Most user feedback comes under an umbrella of frequently asked questions. However, every user who contacts the team has their own individual needs and we use our technical expertise to offer tailored solutions, rather than issue generic responses.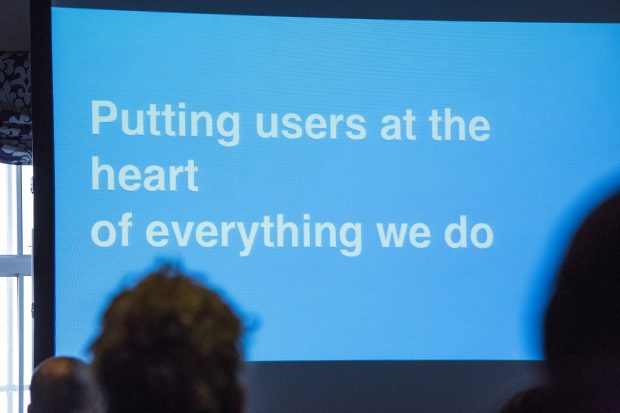 To anyone else, it may sound disheartening to see tickets reporting users being unable to use or having difficulties with GOV.UK Verify. But to us, it demonstrates that GOV.UK Verify is expanding and being used by different demographics and, as we've improved GOV.UK Verify, it's been rewarding to see changes in the type of feedback we receive. Indeed, we get positive comments too, with users contacting us to say they had no trouble using the service and wanted to register their satisfaction.
Headline metrics
We believe you cannot manage what you cannot measure. That is why we use our statistics to monitor, control and manage our workflow. From the information at our disposal, we can project how many future users will visit GOV.UK Verify, which in turn will allow us to estimate user traffic to user support.
For instance, in July 2016 693 users came to user support, compared with 743 in June. That's a decrease of 7.21%. One explanation for this decrease is that GOV.UK Verify as a product is evolving and users are able to use it first time without the need to seek help from user support.
More information on our service dashboard shows a link between the number of successful visitors to GOV.UK Verify and the volume of feedback received by user support.
Contact the team
You can find out more about the user support team, and the hours we work and how to contact us in this blog post.
We welcome comments and suggestions for improvements and would love to hear how GOV.UK Verify has worked for you. Our objective is to not just make GOV.UK Verify better, but to empower our users, and make their interaction with government secure and straightforward.
To keep up to date, subscribe to the GOV.UK Verify blog to get email alerts whenever we publish a new blogpost.